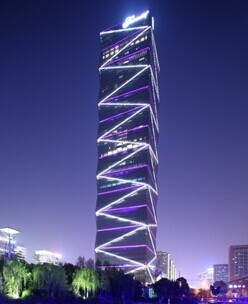 The Fairmont Nanjing (Nanjing Jinaoermeng Jiudian) occupies the upper portion of the Jin'ao Tower, an iconic structure inspired by traditional Chinese lanterns that's also one of the tallest buildings in the city. Guests can enjoy luxury comfort and Fairmont-qualified service about 40 minutes' drive from Nanjing Lukou International Airport.
Diners and tipplers both enjoy a variety of options at the Fairmont. Authentic Canadian steaks, seafood and more get fired up on the grill at Vancouver Grill while Western and local dishes both come out of the kitchen at sky-high Altitude, which is located on the 60th floor. Additional Chinese flavors can be found at Richesse Chinoise where guests can try dishes from Cantonese, Huaiyang and Sichuan cuisines. Afternoon tea service is available in the lobby bar along with tea, coffee and a selection of cocktails, beers and wine. Way up on the 61st floor, guests can enjoy a connected cluster of bars called Music@61. A live music bar can be found along with a whiskey bar, cigar bar, wine bar, cocktail bar and tapas bar, where guests can get skewers or tapas go go with their drinks.
The hotel provides venues for meetings and catering boasting 2,500 sq m (26,910 sq ft) of meeting space including the 1,000 sq m (10,764 sq ft) Grand Ballroom. A banquet staff is available for helping make that special event go smoothly.
For recreation, cool off with a dip in the indoor swimming pool, go for a workout in the state-of-the-art fitness center or indulge in treatments at the Willow Stream Spa.